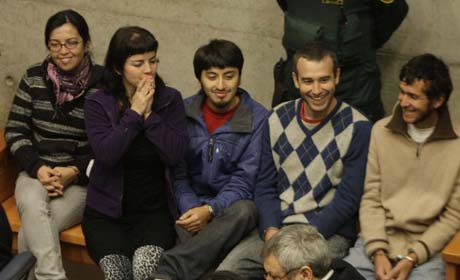 Today, the court revoked the preventative detention of 3 more comrades. The judge granted the defense request and accepted the change of injunction to Omar Hermosilla, Andrea Urzua and Monica Caballero.
For Omar and Andrea, the prosecution did not oppose conditional release, while it opposed it for Monica, because she is charged with placing explosive devices. However, the judge ruled conditional release earlier this month for both Rodolfo and Pablo, 2 alleged leaders of the "illicit association", therefore the court had to release Monica as well.
Two comrades remain in prison, Felipe Guerra and Francisco Solar, whose hearing will be Wednesday in the Court of Appeals.
Cristian Cancino was granted partial dismissal for charges related to possession of explosive materials. He is still being charged as a member of an "illicit association".
FOR THE END OF THE "BOMBS CASE" FRAME UP!
SOLIDARITY CANNOT BE STOPPED!
PRISONERS TO THE STREET!
Edited (Click link to read more details regarding Cristian's dismissal)& translated from: http://libertadalos14a.blogspot.com/2011/05/andrea-omar-y-monica-dormiran-en-sus.html